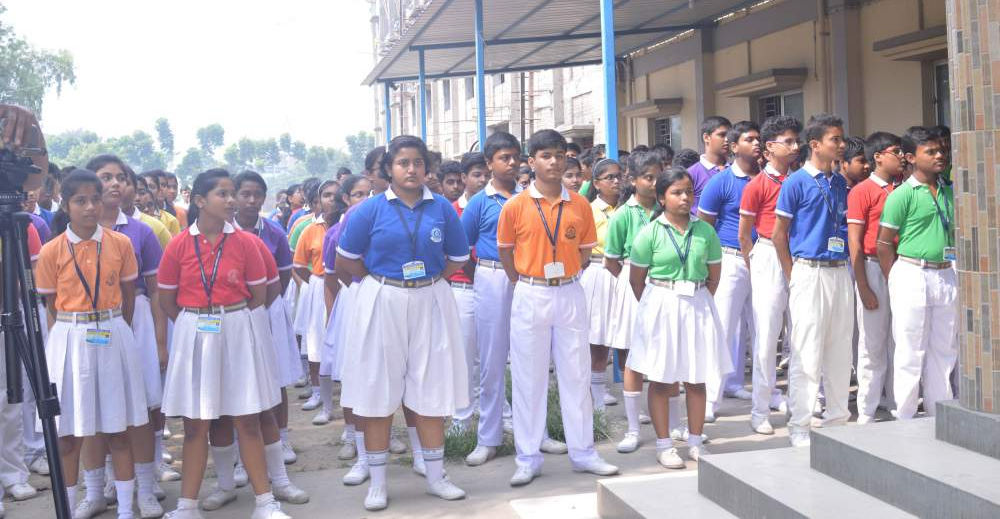 Rules and Regulation:
The school caters to students of all communities, religions and linguistic backgrounds.
MEDIUM OF INSTRUCTION : English
PUNCTUALITY :

Students must report to School at the stipulated time.
Students must report to their respective bus-stops at the stipulated time.
Pupils missing their bus shall be listed among the late-comers.
e. Students must report to school before the first bell [Morning Shift : 07.10a.m.(Pre-primary – Std. II),Day shift :10.05 a.m.(Std. VI –Std. XII) & 10.55 a.m.(Std. III- Std. V)]on working days and must attend the assembly without fail.
Students who reach school late shall be sent back home.
Parents must be present at the bus stop to pick up the child after school.

UNIFORM :

Students must abide by the prescribed uniform.
Students must avoid wearing fancy items to school.
School uniform is compulsory on all working days and at all school functions including Birthdays.
All correspondence must bear the student's full name, class, and section and ID number.

ATTENDANCE & LEAVES :

Regular attendance is mandatory.
Long leave or break from the school must be avoided thus keeping the attendance above 85% for the academic year.
Attendance on the re-opening days after the vacation periods is compulsory.
The leave record in the school diary must be duly filled for students absent for one/two days on genuine ground.
Students who remain absent for more than two consecutive days must bring a medical certificate.
Permission is generally not granted for any other leave.

SCHOOL FEES :

* School fees are payable on monthly basis.
* School fees are collected between 8.30 hrs. to 14.00 hrs. from Monday to Saturday(Mode : Debit Card/Credit Card)
* Fees can be deposited through online payment .Link: www.scmemorial.org (via SBI gateway through Net Banking &Debit Card/Credit Card).
* Fees have to be deposited within the 15th of every month ,failing which late fine Rs. 5.00 for tuition fee and Rs. 5.00 for transport fee(in case if availing the school transport) should be paid for each day.
* Tuition & Misc. and Bus fees are to be paid for all the 12 months of the School Session.
* School office remain open from 8.30 a.m. to 2.00 p.m. on all working days.
* Fees card will be provided to each student at the time of admission/beginning of the session.
* Pupils who have outstanding fees for more than three months will have their names struck off the rolls and readmission may be considered only on payment of readmission charges and clearing all the dues.

Transportation Fee :

School bus fee is payable monthly along with the regular fees of the school.
Withdrawal from the bus service has to be made by prior notification at least one month before, in writing citing reasons for the same for approval of the school authority or a month's fee in lieu three of, required for the withdrawal of school bus facility.
If bus facility is withdrawn, the same will not be provided to the concerned student in the same session.
Parent /Guardian are requested to drop and collect their ward(s)/student(s) only from the specific bus stop.

WITHDRAWAL AND DISMISSAL PROCEDURE :

In case the parent/guardian of a student seeks to withdraw him/her form the school, a full calendar months' notice (or one month's fee paid in lieu) must be served in writing.
No adjustment of security deposit against arrears of fees is accepted.
Transfer certificates and security deposits will be provided only after the clearance of all school dues.
The Principal reserves the right to dismiss any student whose conduct is detrimental to the orderly functioning of the school or has failed for two consecutive years in the same class.
Names of the students who remain absent without proper intimation for two weeks will be struck off the rolls.

MOBILE PHONES :

Mobile phones are prohibited in the school campus and school bus.

SCHOOL PROPERT :

Every student should take care of school property with utmost care. Any damage to the school property or buildings, breaking of class furniture or lab equipment or loss of library books, defacing of the school properties will be dealt seriously.
No personal items (play-things or books or anything) should be brought to school without prior permission to do so.

COMMUNICATION BETWEEN TEACHERS AND PARENTS :

Parents should follow visiting timings to meet the Principal/Vice- Principal/Teacher-In-Charge/Co-ordinator and should use the school diary more to communicate.
Parents will be sent important notices and letters through the school diary which must be acknowledged by countersigning them.

Parents should adhere to the terms and conditions with respect to their wards' assignments and completion of work.
Ignorance of rules will not be considered as an excuse.
The school reserves the right to cancel or modify any of the standing rules and enforce new rules from time to time.